Look what I dug up from the old tblog! My first marathon report, which happened to be Richmond.

I have now officially been initiated into the marathon club. Yesterday I finished my first marathon. I knew it was not going to be easy, but man did I underestimate how hard it would actually be! You get to a point where the pain is so overwhelming you don't think you can take one more step, but you still have another 4-6 miles to go and you can't slow down if you want to qualify for Boston. My whole running career I have had the legs for running but never the brain. If I felt good I ran well and if I didn't feel good and my legs wouldn't just carry me through I never toughed it out. This went for anything including track workouts. And that was when I was only running 5k's! So yesterday will probably go down as my best race ever. I conquered my mental running demons and persevered.
In order to qualify for Boston I needed to run under 3 hours 40 minutes and 59 seconds. That averages out to 8:23 minute miles. My goal was to run a steady marathon. Try to stay away from running too fast or too slow. When you go out too fast in a marathon you will most likely pay for it later. As most marathoners will tell you, you hardly ever hear about someone going out too slow.
We got into Richmond Friday night and I got a watch with 30 splits on it so that I would be able to track my progress throughout the marathon. I have a good memory but I didn't trust myself to remember 26 splits :) I also picked up some running shorts and a cool max shirt to wear during the race.
We went out to dinner with one of the members of the club and his wife and sister-in-law. Very nice people. I had a beer and shrimp scampi pasta. The pasta was delicious. It had capers in it, which I have never eaten, they tasted very good but I was a little worried that my stomach might not handle them well.
Got back to the hotel and got everything ready for race morning. Pinned on my race number, set out my clothes. Checked out how to work my watch. I went to bed shivering like a maniac, hoping that it was just that it was cold in the room, and that I hadn't caught something by being out in the rain.
Heading to the Race
Woke up around 5:30 yesterday morning and decided I wasn't going to be able to sleep any longer so I hopped in the shower and got ready. At this point nerves were settling in and I really felt like I was going to vomit. My parents and I headed over to the race at 7am. I waited in the porta-potty lines twice and checked my bag to pick up after the race. I saw Coach K and M and they told me I shouldn't wear a jacket even though it was cold. So I waited till the last minute, handed my jacket off to my parents and went to the starting corrals.
Checking My Bag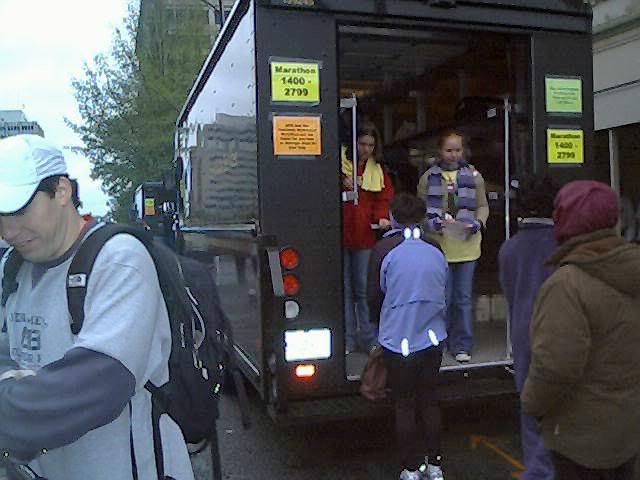 Waiting In Line :)
Richmond had set up pace teams but they didn't have one for 3:40. So I was surprised as I headed to my corral to see a sign saying "3:40 Pace Group: Headed to Boston?" Bonus! I was very excited about that. All I had to do now was stick with this group and I was golden! Well as we started I hooked up with a few girls and we decided to run the race together. We saw our pace leader up ahead but he was going too fast, so we decided we would pace each other to get through the marathon and qualify. We were slightly ahead of pace most miles and the mile markers just kept continuing to go by. I was amazed at how fast the race was progressing, and I felt great! I was talking with my running partner, by now it was just two of us. Around mile 6 my friend from the running club was passing us, he was in the 3:45 pace group. I don't know what was up with these pace leaders but they were not pacing! We were right on pace, or slightly ahead and we were supposed to finish 5 minutes before these guys :) Well R stuck with his pace group even though he knew they were going too fast. So we had another running friend for 4 or 5 miles.
At mile 7 and 14 we passed a Party Stop with tons of spectators! Crowd support is wonderful and really helps spur the runners on! We had picked up another 3:40er who was also struggling through his first marathon. My race partner had done 5 other marathons and an Iron Man! But her best marathon time was 3:59:00. So we were both in for a ride!
Around mile 15 the wind picked up really strongly. We crossed a large bridge and it was incredibly windy. We were starting to head uphill and the wind wasn't going away. My parents were cheering between miles 16 and 17. Later I found out they made it just in time to see me! They asked how I was and I lied through my teeth "Great!" At this point my quads were starting to feel a little sore and 8:23 pace was not quite as easy. But I knew it would not be wise to say out loud how I actually felt because that could be the end of my Boston Qualifying goal.
Between Mile 16 and 17 (The girl in the red cap ran with me for 22 miles)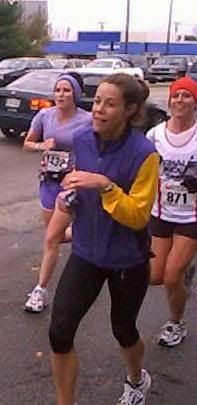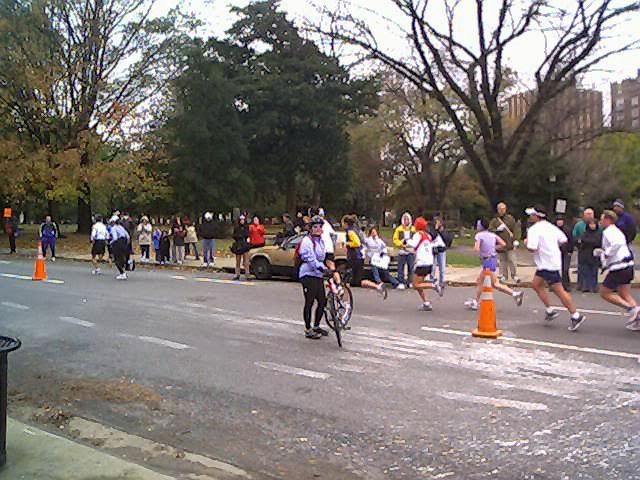 From there it started becoming a mind game. I knew my parents were going to be at mile 25, so I just kept counting down the miles till then. My running partner was starting to feel the pain too and we had a really slow mile from 20 to 21, just over 9 minutes. At 20 I decided to walk through the water stop and when I tried to start up again my legs were screaming at me. I knew I was in trouble. At 21 we both decided to go to the bathroom quickly and got back out there. I was worried about stopping again but knew I couldn't let my bladder go another 5 miles. We had another slow mile, over 9 minutes and I realized my chances of qualifying were now slowly drifting away. With more pain in my legs then I have ever felt I made the decision to go after my goal no matter how bad it hurt.
That got me going but what really helped was that R had caught up to me and since he knew his goal of qualifying was not in danger he sucked it up and started running 30 seconds faster than his goal in order to run me in. My legs were screaming, I kept telling myself how upset I would be if I gave in, and R kept telling me I was trained for this and I just had to hold on. At the time I was grateful and annoyed because he was driving home the same things I was saying to myself but I knew that he was putting himself in a lot of pain just to help me reach my goal. Just before mile 25 his wife jumped on the course to run him in and he told her he was fine and to bring me home :) She was so kind. At this point the sun had come out and I was hot, my headband was around my neck and I asked if she could take it from me. I also had her take my fuel belt so I would have less weight going into the final mile. I know that that stupid thing is heavy so it was really nice of her to take it. She stopped just before the 26-mile mark because that was a huge downhill. I could see the crowds ahead and could just make out the finish clock. I knew I just had to drive it home and I had it! With music from Rocky playing through the street I crossed the finish at 3:39:42! It was the most wonderful awful feeling in the world.
Coach K and M at mile 25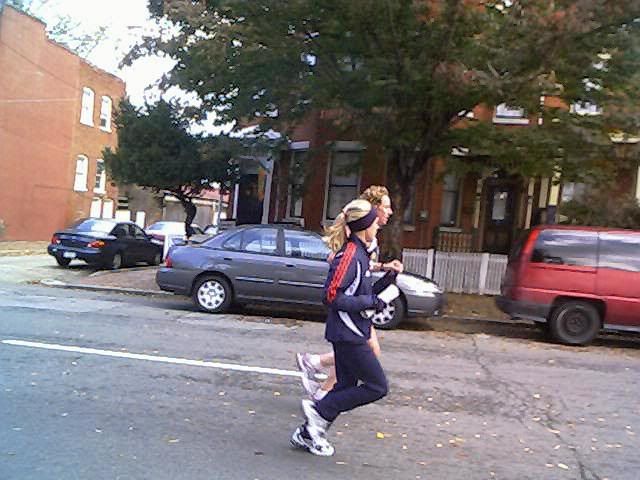 Mile 25
My legs were screaming at me. I could barely walk. I was slightly delusional at this point. But I had done it! I conquered my mental demons and had overcome pain to realize a very lofty goal.
R and his wife and sister-in-law were there at the finish line to celebrate with me. Then I had to make the lonely trek to retrieve my bag with my warm clothes in it. They gave us a Mylar "blanket" at the finish to keep warm until you could get warm clothes. The walk from the finish to get my clothes contained some of the most painful moments of my life. At points I felt like my legs were going to give underneath me. The path to the bag pick up was downhill on cobblestone streets. What kind of cruel trick were they playing? It was horrible, and it was almost a ¼ mile to the bag pick up. When I finally retrieved my clothes it took me about 10 minutes to actually change. Putting my shoes back on was absolutely horrible. I knew it was going to send both my calf and quads into cramps. I managed to get my clothes back on make a trip to the porta potty then I set out to find my parents.
I found Coach M and K and they had seen my dad so I headed back to our hotel since I couldn't find them at the finish. Luckily our hotel wasn't too far from the finish line. Eventually my dad made it back to the hotel and I showered and we went out to lunch with the group. We had a celebratory drink and some lunch then my parents and I hopped into the van for the 8-hour ride home.
My parents are absolutely the best! I can't thank them enough for coming to Richmond with me and helping drive me there and back. I probably would have just stayed in Richmond if it weren't for them!
I am not really sure how I feel about this experience. I know I should be absolutely thrilled but for some reason I am not. I think it may just be hard to digest everything. After my triathlon I was absolutely thrilled, I felt great, and I had a blast. I guess this victory is bittersweet because I really had to give everything to get to it. I can honestly say I left nothing on the course for the first time in my life. And I think by doing that I actually may have left a piece of myself out on the course, and that may be why I feel odd. (If that makes any sense) I have to leave behind the runner who gives in when it gets too tough and now I have much bigger shoes to fill. And maybe that is a bit frightening. I feel bad that I am not more thrilled because I know there are people that work their whole life to qualify for Boston, and I did it in my first marathon.
Going into the marathon I wasn't sure if I would go to Boston, even if I did manage to qualify. Now I really feel I have no choice. I have to go. Too many people gave a piece of their time to get me where I got, and they didn't do that so I could turn around and not go to Boston. I have my next triathlon to do and that is less than a week after Boston. I know that it will be tough but like I said I don't have a choice :) Maybe I can convince A and C to do the triathlon as a relay. Then I would just have to swim.
I am sitting here barely able to walk and registering for the Boston Marathon on April 18th. I have reached the peak of craziness!
My quads are really sore as well as my calves. One of my toes has turned purple and I am pretty sure that nail is going to fall out in the next few days. I have to go and run two miles today and I have no idea how to even attempt it. But I have been ensured that by running those two miles my legs will be better off over the next few days than they would be otherwise. Maybe I will go to the pool first and try running in the water. I cringe when I see a curb let alone stairs. I must look like I just got done riding a horse for days.
So this is what a marathon feels like.
For you statistics junkies out there like me check out my splits!
Mile-Split-Lap
1-?-?
2-16:48.53-?
3-25:03.11-8:14.58
4-33:14.91-8:11.80
5-41:33.95-8:19.04
6-49:58.88-8:24.93
7-58:11.35-8:12.47
8-1:06:38-8:26.19
9-1:15:08-8:30.35
10-1:23:34-8:26.17
11-1:32:09-8:35.32
12-1:40:20-8:10.91
13-1:48:33-8:12.55
Half-1:49:29
14-1:56:46-8:12.78
15-2:04:56-8:09.81
16-2:13:28-8:32.16
17-2:21:53-8:24.89
18-2:30:14-8:21.16
19-2:38:36-8:22.21
20-2:47:13-8:36.96
21-2:56:13-9:00.31
22-3:05:30-9:16.66
23-3:13:48-8:18.07
24-3:21:46-7:57.97
25-3:30:03-8:16.97
26-3:38:08-8:05.46
26.2-3:39:42
11/14/2004